Even before Americans entered the battlefields of France, North Texas was playing a critical role in the Great War. The region became a hub for aviation training (hosting training of Canadian pilots even prior to the U.S. declaration of war), served as the training site for the 36th Division (Camp Bowie), and provided supplies for troops (beef cattle from the Fort Worth Stock Yards). The impact of WWI was far reaching — impacting individuals, the culture, and the local economy for neatly 100 years.
To capture this period, volunteers from the North Texas World War I Centennial Commemoration, working with a variety of partners and sponsors, created From Cowboy to Doughboy, North Texas in WWI: Mobilization for "The Great War". The project is a multi-media presentation on North Texas and WWI, tracing the events leading up to the war, the Mexican Punitive action, early aviation, and the many diverse cultural groups of Texas during the period.
Featured at the Forth Worth Central Library through October 19, 2017, artifacts and educational panels walk visitors through the period. From Cowboy to Doughboy also presents a lectures series and film series running through October in the library auditorium. See the events calendar for more details.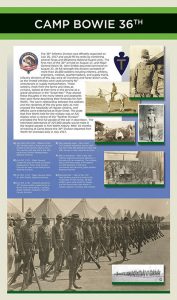 Cowboy to Doughboy exhibit panel