Captain Vernon William Blythe Castle served with distinction as a Royal Flying Corps (RFC) pilot. His death at 8:15am on February 15, 1918 at Benbrook Field southwest of Fort Worth was one small tragedy in the maelstrom of WWI, but it also highlights a unique intersection of popular culture, celebrity, British and American unity 100 years ago during the Great War.
Castle was a celebrity in Europe and the U.S. prior to WWI. With his wife Irene, the couple formed a well-known husband-and-wife dance team, appearing on Broadway and in silent films. By 1914, the Castles developed many popular dances, including the Texas tommy, the foxtrot, and the Castle walk.
Vernon Castle had already been performing in New York in1910 where he met Irene Foote, an American. They married in 1911. Together, they pioneered dances to more modern music, bringing ragtime and jazz-based dances to the public. They worked with emerging talents like Irving Berlin, dancing to popular cutting-edge songs such as, "Alexander's Ragtime Band". The couple was also the first to work across racial lines of the time; their music arranger and musicians were black. According to the Dance Heritage Coalition, the Castles, "…helped to move social dancing from the ballroom to public venues."
A pop icon of the era, Irene Castle was also fashion leader. She bobbed her hair, setting a trend for women in the U.S. and Europe. She endorsed fashion designs and sewing patterns through the Ladies Home Journal and Butterick Patterns, according to Your Dictionary.
After war broke out in Europe, Vernon Castle made the decision to return to Britain, even though America remained neutral until 1917. The couple performed two farewell events at the Hippodrome in New York accompanied by famed band leader John Phillip Sousa. Castle sailed to Britain in 1915 and joined the Royal Flying Corps.
Castle served with the First Squadron, RFC, flying a two-seat Nieuport 20, and later the single-seat Nieuport 17. He completed over 300 missions, shot down two German aircraft, and was awarded the Croix de Guerre in 1917. Castle was ordered to Canada to train new pilots later that year. The unit was then transferred to the U.S. for winter training at Camp Taliaferro in Fort Worth, where a British common wealth flight training site had been established earlier in the war. Somewhere along the way he also acquired a pet monkey, Jeffrey, who accompanied him on flights and was often seen with him in publicity photos.
Castle died when he crashed on landing in an attempt to avoid another plane taking off at Benbrook Field, southwest of Fort Worth. He was 30 years old. Castle had gone up with one of his cadets, an American, who was on his final check flight before soloing. Castle was the only casualty, neither his student nor his pet monkey were seriously injured.
A large funeral procession took place in Fort Worth, where a small RFC cemetery had been establish for British servicemen who died while serving in the area (one indicator of the risk of early flight training, even outside of the war zone). A monument at the crash site in Benbrook, Texas, marks the site of the crash and a street in the city is also named in his honor.
Irene Castle continue to perform after Vernon's death. A 1939 a movie starring Ginger Rogers and Fred Astaire, The Story of Vernon and Irene Castle told their story. Vernon Castle's ultimate resting place is with Irene in a common gravesite at the Woodlawn Cemetery in New York City. Irene died at her Arkansas farm on January 25, 1969 at age 75.
The Friends of the Royal Flying Corps Cemetery and the Fort Worth Aviation Museum will conduct a wreath-laying ceremony at the Royal Flying Corps Cemetery section of the Greenwood Memorial Park at 8:00am on February 15th. A customary toast will be offered in remembrance of Castle as part of the ceremony. More information on the ceremony on the Texas WWI Centennial Commemoration calendar of events.
The WWI flying field in Canada where Castle was an instructor before he was transferred to Texas will simultaneously hold a flag lowering ceremony.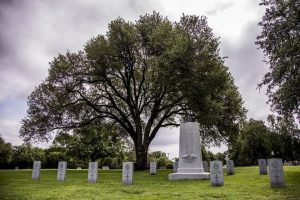 Sources:
http://www.notablebiographies.com/Ca-Ch/Castle-Vernon-and-Irene.html
http://www.danceheritage.org/castle.html
https://www.britannica.com/biography/Vernon-and-Irene-Castle
https://socialdance.stanford.edu/vernoncastle.htm
http://biography.yourdictionary.com/vernon-and-irene-castle
https://en.wikipedia.org/wiki/Vernon_and_Irene_Castle
http://hometownbyhandlebar.com/?p=2118