First-hand accounts of Texans in the Great War tell the story of war in a unique way. Texans wrote numerous accounts of their experience. Some were published shortly after the war, others were uncovered by scholars or family members and published more recently. Here's our top five for the Texas WWI Centennial (book summaries compiled from various sources).
Fix Bayonets! By John W. Thomason. Charles Scribner's Sons, New York, 1926; Naval & Military Press, 2009. First-person short stories and illustrations by Texan John W. Thomason. Fix Bayonets was a critical and commercial success when it was published in 1926. A career Marine Officer from Huntsville, Thomason was a Marine Lieutenant fought in France when American forces entered the war. His collection of stories about the hard-fighting Fifth Marine Regiment in France was praise by literary critics and veterans of the fighting. Thomason has been called the Kipling of the Marines Corps. His collection of personal papers and sketches is held at the Sam Houston State University Library (http://library.shsu.edu/about/departments/specialcollections/thomason.html)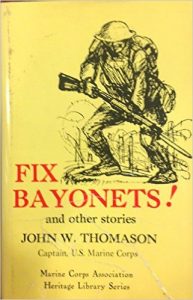 The WWI Diary of Jose de la Luz Saenz. By J. Luz Sáenz (Author), Emilio Zamora (Editor), Ben Maya (Translator). Texas A&M University Press; annotated edition, 2014. Published in Spanish in 1933, Saenz's annotated book of diary entries and letters recounts not only his own war experiences but also those of his fellow Mexican Americans. A skilled and dedicated teacher in South Texas before and after the war, Sáenz's patriotism, his keen observation of the discrimination he and his friends faced both at home and in the field, and his unwavering dedication to the cause of equality have for years made this book a valuable resource for scholars, though only ten copies are known to exist and it has never before been available in English.
His Time in Hell: A Texas Marine in France: The World War I Memoir of Warren R. Jackson. By Warren R. Jackson. Presidio Press, 2001. Beyond the fact that he lived in Houston following the war, virtually nothing is known about Warren R. Jackson. The manuscript was written in the late 1920s and found its way to a special collection of American History at the University of Texas, Austin, where it was recently unearthed by Marine Corps historian George B. Clark. His previous books include With the Old Corps in Nicaragua and Devil Dogs.
Until I Come Home: Love Letters From the War, 1918-1919. By Paul N. Spellman. CreateSpace Independent Publishing Platform, 2015. True story of Roscoe and Vera Diamond Chittim, the world that brought them together in Texas, and the world war that separated them for two years. During Roscoe's service in the U. S. Army during World War I, he and Vera wrote each other long and often passionate love letters, giving the reader a glimpse into the world of the early 1900s. Roscoe, a Missouri-born Cherokee Indian, met and married Dallas socialite Vera Diamond in 1917, and one year later was drafted into the Army. He overcame the deadly pandemic flu and the barrage of war in France to return to his beloved, but tragically lost his life to another disease only four years later. The dozens of letters Vera kept offer a glimpse into their world that is both intimate and at the same time revealing of the culture of the times.
Over There: A Marine in the Great War. By Carl Andrew Brannen. Texas A&M University Press, 1997. Brannen left Texas A&M in January 1918 to join the U.S. Marines; fight in France at Belleau Wood, St. Mihiel and Soissons; and participate in the occupation of Germany. His battlefield snapshots combine with outstanding annotations by Hillman and Owen to enhance this first-rate front-line memoir, recording his memories of training and combat in the 1930s. Unlike many retrospective works on war, this one does not embellish its author's memories. Brannen matter-of-factly recounts his participation in the front lines of a war that substituted flesh for steel. The Marines moved by marching and fought with rifles, grenades and light machine guns. Tactical skill and sheer courage were used where, in later eras, there would be elaborate combined-arms fire-support programs. Brannen's regiment, the 6th Marines, was out and completely replaced almost twice between June and November 1918; a useful reminder of war's ultimate price.