To add or suggest an event, please contact our event coordinator here

EVENT: "Pershing's Path to Glory" Film Showing – Bryan
November 9, 2018 @ 6:00 pm

-

8:00 pm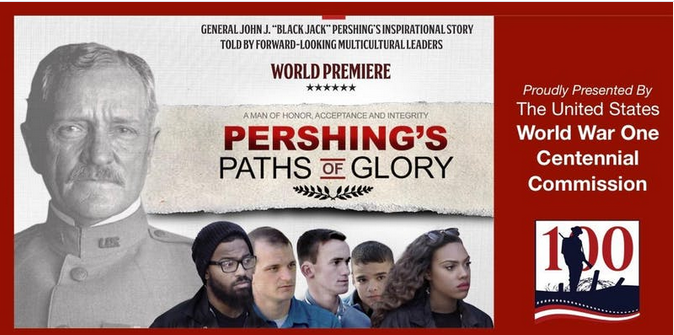 "Pershing's Path to Glory" will play at The Queen Theater in Downtown Bryan.
In 1894, Lieutenant Pershing revived a disheartened ROTC drill squad at the University of Nebraska. These Varsity Rifles were reorganized and trained by General Pershing with the discipline of a fighting unit, and they eventually won the national drill competition. After General Pershing left to teach at West Point, the group renamed themselves The Pershing Rifles. In mid-20th Century, two related programs were founded, a female collegiate sorority called the Pershing Angels and a high school organization called the Blackjacks.
Raised in Laclede, Missouri, General Pershing rose to the highest rank America has ever established, General of the Armies of the United States. He experienced triumph in commanding the American Expeditionary Forces of over three million Doughboys to important victories that helped end World War One. But he also endured unimaginable personal tragedy, losing his beloved wife and three daughters in a house fire.
General Pershing formulated military policy still in effect today, such as the first successful counter-insurgency campaign leading to a lasting peace with the Islamic Moro tribe in the Philippines. He also led African-American troops three times – on the American Frontier, in Cuba with Teddy Roosevelt, and against Pancho Villa in Mexico. Significantly, he founded the American Battle Monuments Commission (ABMC) which built Memorials and Cemeteries in Europe where our American soldiers are laid to rest.
Observing General Pershing's unique brand of multi-cultural respect, the young cadets come to understand why many consider him to be an early advocate of civil rights. Certainly, his racial empathy for Black Buffalo Soldiers, Mexicans, Native Americans, and Muslim Moros sets him distinctly apart as a role model for leaders today with his admirable personal values of honor, acceptance, and integrity.