To add or suggest an event, please contact our event coordinator here

EXHIBIT: Over Here, Over There: El Paso and El Pasoans during WWI
July 28, 2017

-

December 31, 2017

FREE
Event Navigation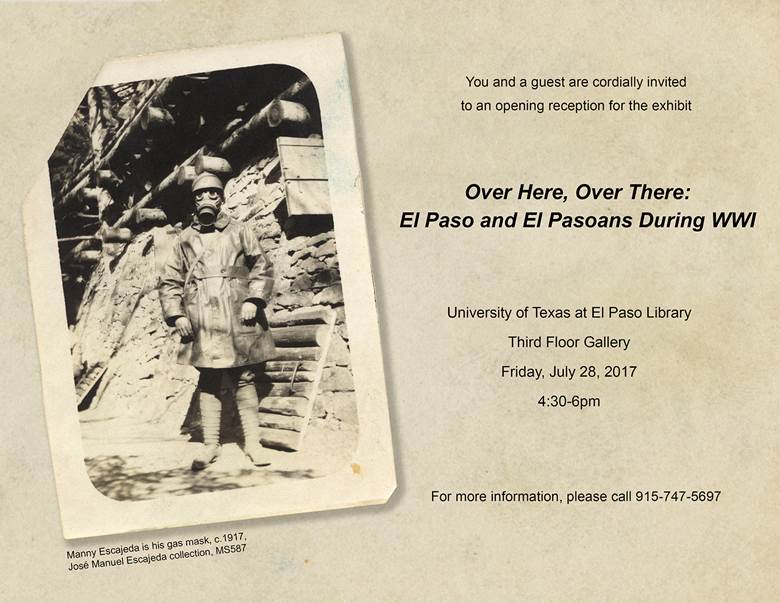 This July marks the one hundredth anniversary of the arrival of the Allied Expeditionary Force in Europe. To commemorate this event, the C.L. Sonnichsen Special Collections Department of the University of Texas at El Paso (UTEP) Library created an exhibit to recount El Pasoans' World War I experiences. This exhibit, Over Here, Over There: El Paso and El Pasoans during WWI, will officially open with a reception on Friday, July 28, 2017, 4:30-6pm in the UTEP Library's Third Floor Gallery. The reception is free and open to the public. This exhibit features photographs, documents, and artifacts from Special Collections and the UTEP Centennial Museum. The Special Collections Department also has a complementary display of rare WWI books in its S.L.A. Marshall Military History Room.
Some El Pasoans featured in the exhibit include:
José Manuel "Manny" Escajeda (1896 – 1957) served in France during WWI. A 1915 graduate of El Paso High School, Escajeda attended the University of Texas at Austin and later transferred to the University of Virginia in Charlottesville in 1917. He enlisted in the French army on May 29, 1917, along with several other University of Virginia students who were worried that France would lose the war. While working as an ambulance driver in France, Escajeda's vehicle experienced a direct hit from a mortar shell.  Despite the attack, Escajeda remained on the battlefield to help save wounded French soldiers.  On October 27, 1918 France awarded him the Croix de Guerre, France's highest honor for bravery. He later became El Paso National Bank's vice president for affairs related to Mexico and South America and served as president of the El Paso Officers Association, as commander of the American Legion #36.
Born in El Paso, Elliot Chess (d. 1962) was a decorated military pilot. He left El Paso High School and joined the Royal Flying Corps in Canada; he went overseas to fight in WWI at age 18. During the Polish-Soviet War (1919 – 1921), he flew for the Polish air force as part of the Kościusko squadron. For his bravery, Chess received Poland's highest military honor, the Virtuti Militari.  After the Polish-Soviet War, he worked for the El Paso Times as an ad manager and was also a miner, reporter, editor, professional wrestler, playwright, and author.
Betty Mary Smith Goetting (1897 – 1980) volunteered for the Red Cross during WWI.  She worked as a librarian at the El Paso Public Library and as the El Paso County Historical Society's first curator. In addition to her career in librarianship, she helped found the Planned Parenthood Center of El Paso and actively promoted women's social, economic, and reproductive rights in the El Paso community. She married Charles A. Goetting, who had volunteered and served with Major Richard Burges of El Paso during WWI, in 1919.
This exhibit will be open through December 2017.