To add or suggest an event, please contact our event coordinator here

Remembrance on Veterans Day / Centennial of the World War I / Bells of Peace
November 11, 2018 @ 10:00 am

-

12:00 pm

Free
Event Navigation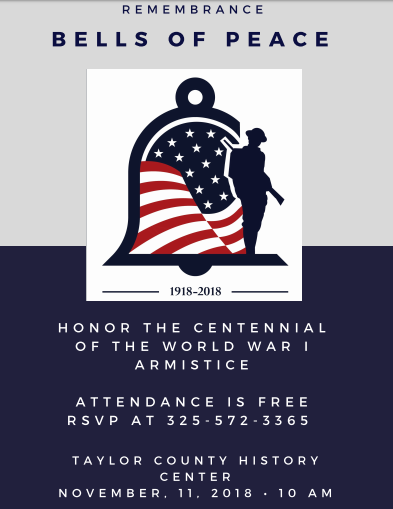 Remembrance on Veterans Day to honor the Centennial of the World War I Armistice with Bells of Peace at the Taylor County History Center
Buffalo Gap, Texas (November 3, 2018) – The Taylor County History Center is pleased to announce its participation in Bells of Peace: A World War I Remembrance, a collaborative program created by The World War One Centennial Commission whereby American citizens and organizations, across the entire country, are invited to toll bells in their communities twenty-one times on Sunday, November 11, 2018 at 11:00 a.m. local time. Attendance is free.  #TolltheBellNotes
Twenty-four residents of Buffalo Gap served in World War I, two of which were Killed in Action. Taylor County History Center is happy to have located the relatives of George F. Ridenour (359th Infantry, 90th Division), one of the KIA, who will be our honored guests at a nondenominational ceremony. The ceremony will start at 10:00am including prayer, hymns and stories from World War I.
"We have had documentaries on World War I play every third Sunday to honor the 100th Anniversary of World War I every month." according to Director of Development, Kenna Hogan. "I am proud we are participating in this important national event and tolling the bells of peace in honor of the American men and women who were killed and wounded one hundred years ago."
Paul Ridenour, who was George F. Ridenour's second Great Uncle, noted, "It has been said that a person experiences three deaths. When the body ceases to function, when it is consigned to the grave, and when their name is spoken for the last time. It will be an honor to hear the name of George F. Ridenour again. Gone but not forgotten."
About Taylor County History Center. For more information about Bells of Peace or community interest and involvement,www.taylorcountyhistorycenter.com or email education@taylorcountyhistorycenter.com.